Our Story
In 1984, a 10-year-old child in Merseyside listened to Vivaldi's Four Seasons on the radio for the very first time…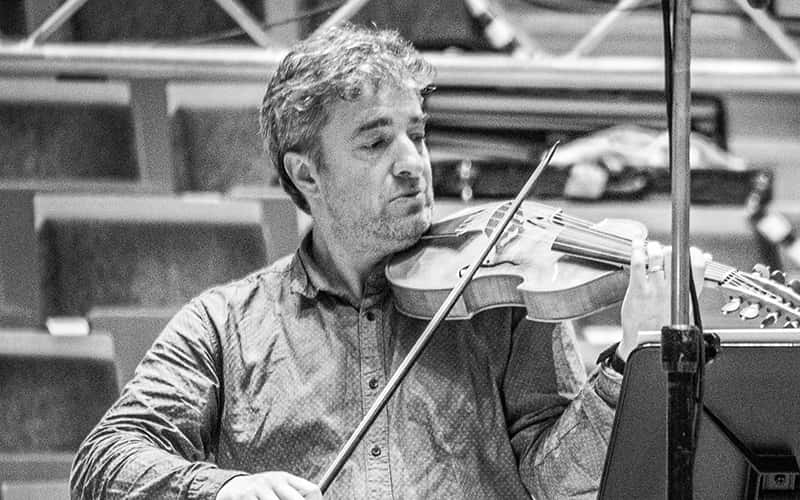 © Lia Vittone
This encounter resulted in a lifetime's dedication to the music of 18th-century Venice for violinist Adrian Chandler and the birth of La Serenissima: a world-class ensemble bringing life-affirming Italian baroque music to a global audience.
Full Story
LA SERENISSIMA
La Serenissima is recognised as the UK's leading exponent of the music of eighteenth-century Venice and connected composers. Uniquely, the group's entire repertoire is edited from source material, and it has been praised for its 'glorious and all-too-rare ability to make one's pulse race afresh with every new project' (Gramophone). La Serenissima has become synonymous with virtuosity, dynamism and accessibility, uncovering a plethora of new repertoire and making it available to all through live performance, high calibre recording work, education and outreach initiatives.
Since the first album was released in 2003, La Serenissima's recordings have been applauded by numerous publications and have attracted multiple awards, besides being chosen to feature in international advertising (Versace, 2018) and film (Portrait of a Lady on Fire, 2020). In 2010, The French Connection won the Gramophone Award for 'Baroque Instrumental'. The Four Seasons was released in 2015, spending several weeks in the UK Specialist Classical Chart and selected as Editor's Choice (Gramophone) and Concerto Choice (BBC Music Magazine). In 2017, The Italian Job won a further Gramophone Award. The ensemble's album Vivaldi x2 topped the UK Classical Chart upon release in 2018, with The Sunday Times writing that 'under Adrian Chandler, the playing, vibrant yet polished to perfection, is superb.' Most recently, La Serenissima's album Extra Time has received exhaustive radio play from all major UK radio stations and clocked up over 250,000 streams in the first 2 weeks of release, with Gramophone remarking that 'the music-making is top-drawer and joyous'.
La Serenissima has performed throughout the UK and internationally in both urban and rural venues: many projects have reached new audiences through project funding from Arts Council England. In 2018 it gave the first modern performance of Brescianello's opera Tisbe for the Buxton Festival. In 2019 La Serenissima opened the London Festival of Baroque music, debuted at the Snape Proms and gave the modern premiere of Caldara's opera Lucio Papirio Dittatore in Buxton; they also launched a new animateur-led outreach programme for key-stage 2 children as part of The Godfather tour.
La Serenissima is proud to have as its Honorary Patron, His Excellency The Italian Ambassador to the UK.
They really put the rock into baroque!

Where did our name come from?
---
La Serenissima takes its name from Venice, the magical North Italian city of winding canals and elegant bridges, traditionally known as the Most Serene Republic of Venice.
Because our focus has always been the musical legacy of Antonio Vivaldi (1678-1741), born in Venice: a composer, impresario, teacher, violinist – and priest.
Although Vivaldi spent most of his life in Venice, his influence on the development of European music was profound. This has inspired a host of projects exploring links between composers from Venice, Northern Italy and the rest of Europe.
We are the only instrumental ensemble on the planet to work exclusively from our own performing editions. A bit like eating a bowl of homemade pasta – we think it tastes better.
Underpinned by research, our commitment to musical discovery has unearthed extraordinary works by neglected composers: from Brescianello to Composer X.
Driven by passion: we package world-class performance to spark engagement from beyond a core classical music following. In doing so, we strive to give more people access to our music.
Our Mission
La Serenissima exists to bring the life-affirming music of 18th-century Venice, Northern Italy and related composers to a global audience.
Image © Simon Munday