August News from La Serenissima
Here at La Serenissima base camp we have been busy with the launch of Vivaldi's Women and its three singles which have been coming out on streaming sites over recent weeks. More on this below…

We are also deep into preparation for An Englishman Abroad – a programme which Adrian confidently states is "possibly our BEST programme yet"… Scroll down for ticketing info.
Vivaldi's Women is OUT!
After huge setbacks (mostly connected to the pandemic), we are excited that this album is at last in the shops and available to listeners.
Adrian's hopes for the disc are that it will help to reassert Vivaldi's profile as a composer of sacred music – and not just the famous Gloria (RV589) that we all know so well. You can read more about this in his excellent liner notes.
Essentially, the album is made up of a collection of works mostly written for the Ospedale della Pietà (there is one exception, RV637) where Vivaldi worked for the majority of his life, but where (curiously) he never actually held the top job.

There are vocal works including the lesser-known Nisi Dominus (discovered in 2003) performed by soprano Claire Booth, mezzo soprano Renata Pokupic and contralto Jess Dandy, but also a wide range of instrumental concerti covering many of the weird and wonderful instruments that were intrinsic to the musical life of the Pietà. Look out for a fabulous concerto for organ and violin which has all the La Serenissima groove you could wish for in a new release.
Apple Music are also running an exclusive music video of our performance of a concerto in F which represents a modern premiere – La Serenissima is hugely grateful to Michael Talbot for sharing this discovery with us. We are massively proud of the instrumental playing on this album and we hope that you will love it too.
Buy your copy here!
Thank you to everyone who supports us
We could not have made Vivaldi's Women without substantial donations from a range of supporters – including Album Sponsors Hilary & Stuart Williams and several generous track sponsors.

We have been thrilled to see increased use of the website for donations, including contributions to our Serene Recovery Fund. These donations make a huge difference to us.

Forthcoming tour An Englishman Abroad has been generously supported by Continuo Foundation and John Osborn CBE. Without such support, these performances simply wouldn't happen. If you would like support the forthcoming album of this programme, please email camilla@laserenissima.co.uk Your donation could make all the difference.
An Englishman Abroad
Music by BRESCIANELLO (1690 – 1758) CALDARA (1670 – 1736) MATTEIS the Younger (c1678 – 1737) PURCELL (1659 – 1695) TELEMANN (1681 – 1767) & VIVALDI (1678 – 1741)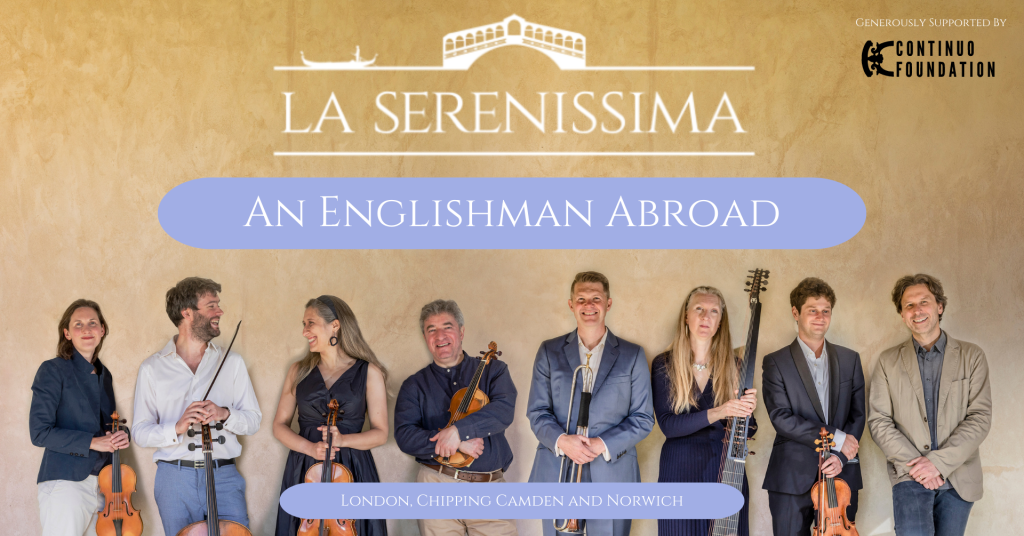 A celebration of the music of English violinist & composer Nicola Matteis the Younger, whose Italian father was a colleague of Henry Purcell. Matteis spent most of his career in Vienna composing vibrant ballet music & leading the court orchestra. This concert includes Purcell's soulful Chacony and Vivaldi's violin concerto 'Il Favorito' – the Emperor's favourite.

We are visiting:
St Martin in the Fields, London
7:30pm, Thursday 29th September
Tickets here
St James Church, Chipping Campden
7:30pm, Friday 30th September
Tickets here
John Innes Centre, Norwich Chamber Music
7:30pm, Saturday 1st October
Tickets here
We hope to see many of you there!

Both London and Chipping Campden represent concerts where La Serenissima is reliant on box office revenue to pay its artists. We'd love to share this wonderful music with as many of you as possible, the programme is going to be a LS 'Special'.
Merchandise
Some of you have been asking us about producing La Serenissima merchandise. It seems like a good time to ask you, our newsletter recipients, whether you would indeed like to support the group this way and if so – WHAT WOULD YOU LIKE TO BUY? Mugs, tote bags, t-shirts…. Please let us know!